The concept of biocompatibility refers to the interaction between the tissues and the physiological systems of a patient treated with a medical device. The biocompatibility assessment is part of the overall device safety assessment.
Medical device biocompatibility assessment is actually carried out in order to ensure patient safety. When programming a biocompatibility test, manufacturers need to consider their compliance objectives and risks. In fact, medical device biocompatibility evaluation is a risk assessment study. All medical devices have a certain level of risk. Firms that design medical devices strive to maximize the benefits they provide to patients by minimizing risk.
The main standard in biocompatibility testing is the ISO 10993 standards. The first part of this standard is the test selection guide. The following sections cover specific test processes and other test related considerations.
Biocompatibility testing data is always required for devices with significant tissue contact. The ISO 10993-1 material biocompatibility matrix is used to determine whether a medical device requires a biocompatibility test. ISO 10993-1: 2018 through the Biological Evaluation Plan (BEP) allows to determine the potential risk based on the data provided by the Sponsor (information on raw materials, packaging, production conditions and previously performed studies). The next step is a series of studies proposed in the BEP to verify risk assessments, and finally in the Biological Evaluation Report (BER) risk assessment is summarized and explained what the potential sources of non-compliance could be.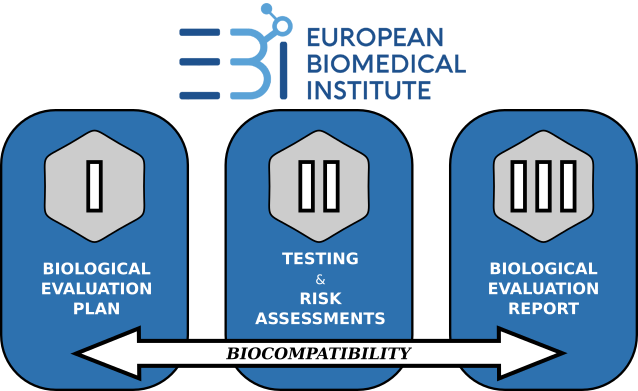 In every region of the world, medical device manufacturers are required to prove the biocompatibility performance of their products. In some countries (China, USA, Canada), biocompatibility testing requirements may differ. If the manufacturer stores data from previous shipments, data from material or component suppliers, analytical data and clinical data, the number of tests is slightly reduced.
The main purpose of the ISO standard is to verify that the device is suitable for the intended use. In this process, biological testing is the most important step in a biocompatibility assessment. The standard classifies devices by type of body contact and duration.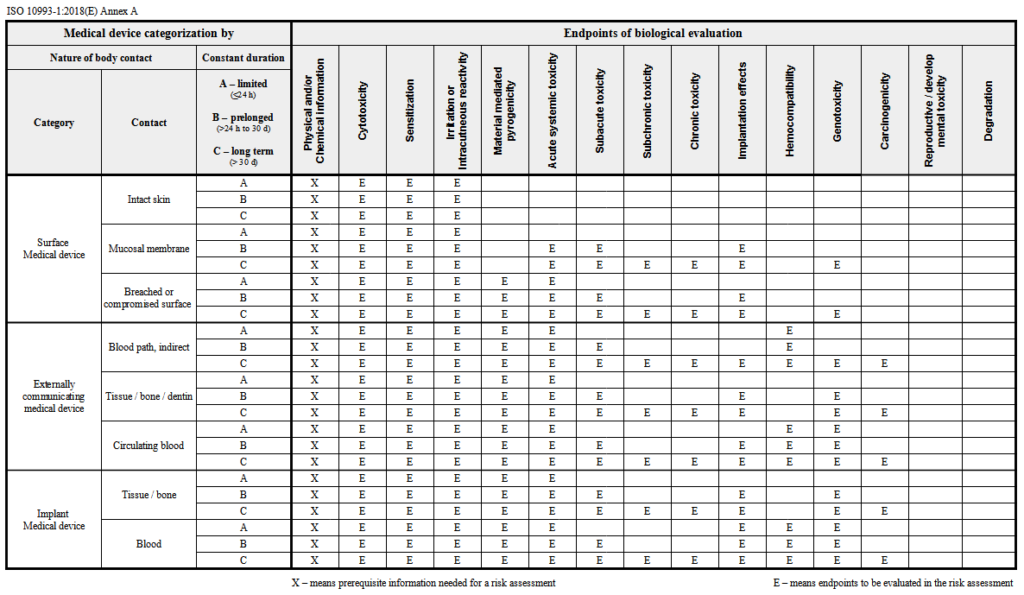 Biocompatibility is often associated with the necessity to perform a complete set of tests for new medical devices that are yet to be released on the market. But manufacturers of medical devices must remember that sometimes a seemingly small change in the production process of products already available on the market (for example: changing one of the materials, changing the production method, introducing new machines into the production line, or an apparently insignificant change in the sterilization method) is associated with another risk assessment and performing biocompatibility tests. Also manufacturers are required to collect safety data for all components and materials used in medical devices.
European Biomedical Institute is Good Laboratory Practice (GLP) certified and ISO 17025 accredited. Our company also provides biocompatibility testing services in the field of certification services. Thanks to these services, enterprises are able to produce more efficient, high-performance and high-quality products in a safe, fast and uninterrupted manner.
For further information, please contact your sales representative team if you're an existing customer or if you're new to European Biomedical Institute please reach us at contact@ebi.bio or visit our website https://ebi.bio/
We look forward to helping you reach all of your evaluation goals and a successful submission!
We are here to support you!