Welcome to European
Biomedical Institute
As European Biomedical Institute we are independent Contract Research Organization (CRO) mainly focused on providing comprehensive biocompatibility and chemistry testing for medical devices according to the ISO 10993, in-house.
European Biomedical Institute is ISO 17025 accredited, Good Laboratory Practice (GLP) certified, and US FDA 21CFR58 compliant, which allows us to meet the most restricted requirements of Competent Authorities (e.g. FDA, MHLW, MFDS, ANVISA) and Notified Bodies.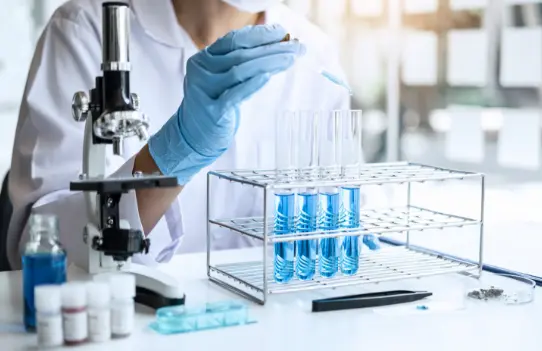 We are specialized in comprehensive in vitro, in vivo and in silico preclinical medical device testing institute. Furthermore, we constantly develop our laboratories, therefore at European Biomedical Institute our services also include, but are not limited to:
physical and chemical characterization, extractable and leachable (E&L)
complete ISO 10993 biocompatibility
microbiology and sterility
cleaning, disinfection and sterilization validations
package validation
toxicology
Biological Evaluation Plan (BEP), Biological Evaluation Report (BER), Biological Risk Assessment (BRA)
Biological reactivity of elastomerics, plastics and other polymeric materials USP 87, USP 88
Over 20 years' experience allows us to reduce spendings of our Customers on unnecessary testing.
With ambitious people and most modern laboratories in Europe we service professional advice and competitive offers.
I cooperated with EBI at the turn of 2018/2019 in the field of medical device testing. The laboratory services are of a high standard. I am also satisfied with professional advice and efficient execution of orders.
Jolanta, Poland
Cooperation with EBI was quick and successful in every case. The company provides services reliably, taking care of every detail, and thus the whole topic. The attitude of employees to clients is professional, they approach each issue comprehensively, offering a wide range of services.
Adam, Poland
We have been cooperating with EBI for several years. We are satisfied with the services that it offers and performs in the field of biocompatibility tests of medical devices. EBI employees have a lot of knowledge in this aspect and professionally fulfill their tasks, they also help in the selection of research. The prices of services offered by the company are also attractive.
Miłosz, Poland
European Biomedical Institute profile
We always pay attention to our Customers needs. From the begging of our history till today, our aim is to offer the highest quality of tests with the shortest possible lead time in a cost effective manner. This is our DNA.
CERTIFICATES
Our certificates


Good Laboratory Practice (GLP) and ISO 17025. Quality system implemented by European Biomedical Institute . It defines a set of rules and criteria for studies that are planned, performed and monitored, and their results are recorded, reported and archived. It is possible to trace the course of the study or its complete reconstruction. European Biomedical Institute is GLP certified.


ISO 17025 – The quality management standard, implemented to standardize the technical requirements and requirements of management system, intended for research laboratories. Our management system is based on the ISO 17025 standard. European Biomedical Institute is ISO 17025 accredited.